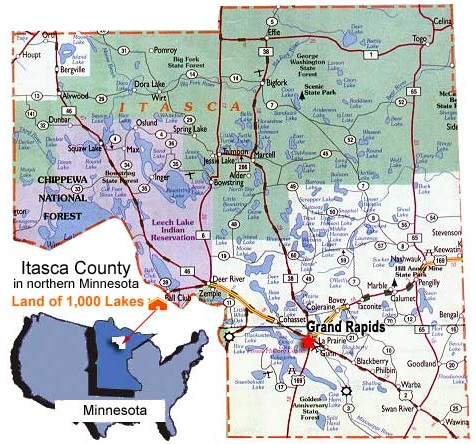 Itasca County Community
Edge of the Wilderness Lakes & Homes Realty is located in the beautiful northwoods of Itasca County in Minnesota. You can enjoy the many features that make this a great place to raise a family, start a business, or just retire and enjoy the lakes and seasonal recreation.
Surrounded by lakes, rivers, and forests, the beauty of this area and what it has to offer are sure to fulfill your desires and give you memories that last a lifetime. Many people who come to this part of Minnesota discover they that have come at just the right time, whether it is summer, fall, winter, or spring!
Itasca County is the center of Minnesota's beautiful resort and recreation area. Our premier fishing waters and top-notch resorts host thousands of tourists annually. Each season brings its own particular beauty to Itasca County. Rivers, lakes, and streams abound with Walleye, Northern Pike, Muskies, Crappie, Jumbo Perch, and other species of fish. Moose, white tailed deer, timber wolves, black bear, fox, ruffed grouse and various waterfowl, including our state bird, the Loon, thrive in this natural paradise.
The Chippewa National Forest has over 300 miles of canoe trails, 180 miles of hiking and biking trails, and more than 2,000 known historical sites. The Chippewa National Forest is also home to the largest breeding population of Bald Eagles in the lower 48 states.
Come to Itasca County and experience everything that makes the northwoods such a great place.